Things are buzzing at the B. toys Workshop as we gear up to celebrate the little ones who cooed and crawled through their very first year! Turning 1 year old means there are exciting learning opportunities that lie ahead in terms of communication, movement, thought, or behavior – and we've got the toys that'll give babies a boost every step of the way.
Here are our educational gift ideas for 1-year-olds and above:
Walk 'n' Learn
Wooden Activity Walker
Start the new year off on the right foot… or both feet! If you've got your camera ready and are (im)patiently waiting to capture your baby's first steps, then our wooden walker can give your kiddo the support they need to stand on their own two feet – and help you snap a picture-perfect moment. With this walker, your child can easily hold on to the walking bar and roll across the house, putting one foot in front of the other. And when they need a lil' break, a whole lot of educational activities will be waiting for them! Children can discover themselves in a round mirror, play with a clock, slide beads across a wire maze, spin gears, learn their 123s, or explore moveable knobs!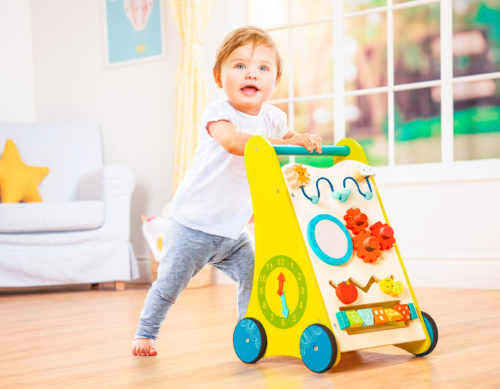 Wooden Number Puzzle
Continue learning this season with a classic and colorful number puzzle! Use the 20 wooden pieces to introduce little ones to numbers 1 through 10 or give the festivities an educational flavor with a couple of fun games. Have the number pieces handy and use the decorations, snacks, or everyday objects in your home to illustrate the numbers in combination with words. One tree, 4 pillows, 7 gingerbread cookies, 9 candles, and so on! Or grab the chunky color blocks and play a matching game: help your kiddo, niece, or nephew find objects in the house that correspond to the color of each piece! (Or simply play with a single string of colorful lights to stay in one place.)
Remote Control Toy
Travel to space for the holidays – and spark your child's sensory development while you're at it! Little ones can either watch this silly crab randomly roam around the room or control its course with the kid-friendly remote when they get a lil' older. Either way, this RC toy is sure to stimulate their senses with vibrant colors, flashing lights, and silly sounds! To make things that much more interesting, you can create a circle on the floor using holiday decorations, pop Ju-Peter and the friendly alien in the middle, and challenge your child to bump the alien without touching the circle! If there are a couple of kiddos at home, then you can also encourage some friendly competition with our other Bumper Space Car – Marky Mars – by setting up a fun race!
Plush Bear & Picnic Set
Who says that a table is the only place to eat festive food? Whether it's a pre-feast midday snack or holiday leftovers, put an imaginative spin on mealtime with an indoor picnic! Lay out the food on the blanket, use the colorful dishes to eat, invite Cara-Mellow Bear and other plush buddies to join in on the fun, and introduce your child to the wonderful world of pretend play. It may be winter outside, but your imaginations (and some themed décor!) can take you anywhere while you dine – a lush park, a sunny beach, or any other creative location you can dream up. Once your bellies are filled with holiday yumminess, you can then pull out the included board book – Cara Plans a Colorful Picnic Party – and learn about different foods, colors, and animals!
Rocking Unicorn
Stay on the creative road with Cleo – a kiddo's classic companion that has stood the test of many playrooms. A plushy twist on the traditional rocking horse, this pink unicorn will spark your toddler's curiosity and fire up their imagination. (Be sure to prepare your most magical answer for: "What is a unicorn?") Your child can settle into the comfy seat, grab the natural hardwood handles, listen to the clip-clop of Cleo's hooves, and start rockin' away. Will they gallop across a Winter Wonderland? Ride through the City of Candy Canes? Or maybe make their way to the North Pole? There's only one way to find out.
Know someone who recently welcomed a bundle of joy into the world? Then take a look at our toys for the tiniest of tots in our baby gift guide.
Are you ready to embark on a whimsical adventure into the world of pretend play with your preschool and school-aged kids? Well, you're ...