School might be out, but it doesn't mean that learning needs to be put on pause! In just 3 easy steps (and a whole lot of imagination), you can turn your living room into the B. classroom through the magic of make-believe. In turn, playing school can help your child smoothly transition back to their familiar educational environment once schools reopen their doors!
1. Create a Classroom
Creating a pretend play school requires its own environment! Make space for a special study nook where your little one can lay out their pencils, papers, erasers, and craft supplies. This is where a mini-desk and chair could come in handy, to mimic an actual classroom spot and to make sure that your little student is sitting comfortably and concentrating as they learn. And if you have space, why not take it a step further with a teacher's desk and a board that both you and your kiddo can use during lessons!
2. Plan a Lesson
When it comes to planning the lessons, we leave the formal lesson plans to the teaching pros who have made a multitude of online resources available at your fingertips. We understand that diving into a sea of beautiful subjects can get a little overwhelming, which is why we want to help with a few suggestions below: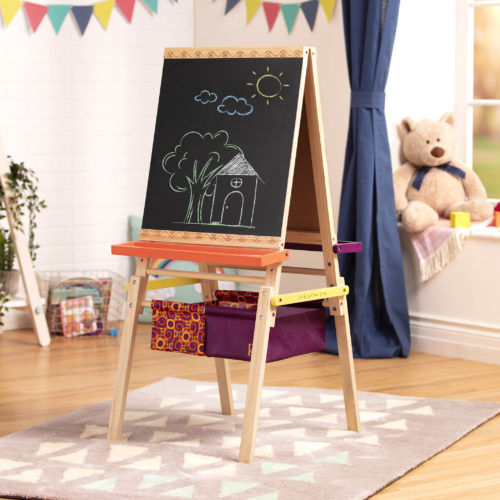 Focus on a given subject or two per day out of reading, writing, math, science, art, health, or history. It can help you navigate this new role and keep your little one interested!
Break up a lesson! If you decided on math class, grab 10 colorful pencils or use an abacus and focus on counting from 0 to 10 in the morning, then adding and subtracting in the afternoon.
Follow lunchtime with a lesson on nutrition! Get your child to guess foods by laying them out and reading a riddle for each one, such as "I am red, I am round, and I end with "O" – What am I? A Tomato!" Having these foods on hand for smelling and tasting can also add a dash of sensory fun to the lesson.
Explore the wilderness of your backyard and learn about plants! You can explain to your little one that plants grow by putting a seed into the soil, sprinkling that spot with water, giving it some sunshine, and watching it sprout. If you want to dig deeper, reproduce the experiment by recycling eggshells and using them as pots to grow beans, parsley, marigolds, and more!
3. Play Pretend & Learn
Once the study area is all set up and the day is planned out, it's time to enter the B. School*! Before the lesson begins, set the scene for your little student by surrounding them with pretend classmates – Cupcake Pup, Cali Cat, Cara-Mellow Bear, and the rest of the softies crew. Then let class begin! Address the whole class, call your kiddo to the board, and add a sprinkle of fun to every lesson.
At the end of every week, create a report card to keep track of your child's progress and show them positive results to boost their confidence. Since Easter is right around the corner, you can also switch out those gold stars for sweet treats!
This blog post is dedicated to all of the amazing preschool teachers, educators, child care workers, members of the education system, and parents who work hard to keep our kids learning every day!
*The B. School name and concept are used in a fictitious manner and this post is not intended as a substitute for the educational advice of professional teachers.
Adjusting to a new day-to-day with the whole family at home? Although you might find yourself with a laptop in one hand and a stuffed a...