When we think of Easter, we tend to gravitate towards the traditional activity of the Easter egg hunt. And while we love looking for colorful treasures, we want to share a few
additional Easter
activities with you that are made with
kids
and fun in mind!
Advent Calendar
Who says advent calendars are only for Christmas? If you're as egg-cited about Easter as we are, we recommend creating an advent calendar and counting down the days to this pastel-perfect holiday. You can paint the dates on openable craft eggs and place colorful confetti inside each one!
Bingo or I Spy, Easter Edition
Put an Easter twist on classic games! For a round or two of bingo, replace the numbers with Easter-themed illustrations such as colorful eggs or bunnies and have corresponding cards on hand. If you go for a game
of
I Spy, use a sheet with illustrations or words such as "basket," "flower," or "carrot," and ask
kiddos
how many of these items
they can
spot in and around the house!
Egg & Spoon Race
Keep the Easter egg theme going with
an
egg-and-spoon race! Our new
Outdoor Games Galore
set features 4 colorful spoons and color-matching eggs, so children can race in a group of four. Not to mention, the eggs open
in
the middle! Hide tiny chocolate treats inside for kids to discover after they finish racing!
Sweet Treats
Speaking of sweet treats, baking is also a great Easter activity to do with kids. You can make bunny cupcakes, egg-shaped cookies with colorful icing,
carrot cake,
and so much more! Prep your ingredients before inviting little ones into the kitchen, then encourage your mini bakers to help out by pouring flour, mixing eggs, or decorating cookies.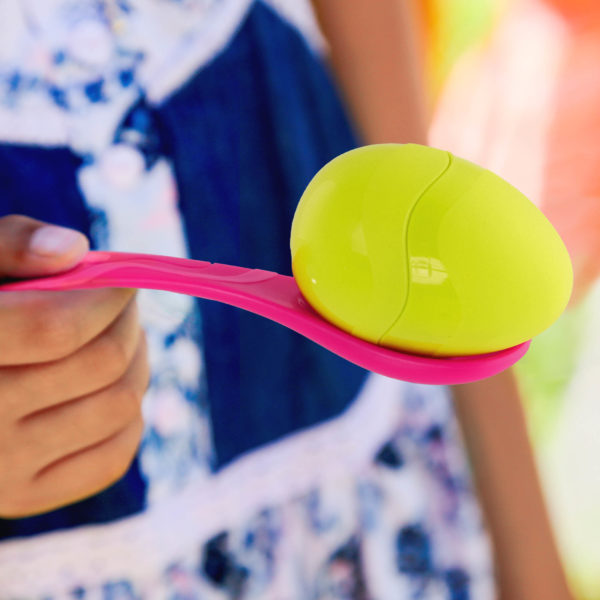 Lemonade Stand
What can B. better than a cool glass of lemonade after an egg hunt or outdoor games? If your children are having their buddies over for Easter or if you're planning a big family gathering, we recommend setting up a fun lemonade stand together! Put out 3 or 4 glass beverage dispensers with lemonade and add a
lil
' bit of food coloring into each one to give '
em
 a pastel-colored twist.
Craft Corner
Get into the Easter spirit with crafts! Let your creativity shine through egg painting, try your hand at origami and make flat paper bunnies, create a DIY bunny headband, write and decorate Easter cards, make colorful paper flowers, and much more. Once the crafts are complete, display them around the house to add an Easter touch to your home décor!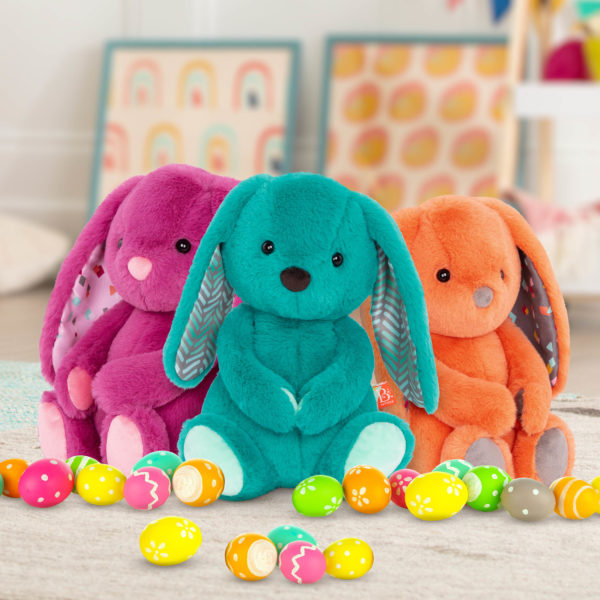 Flower Fun
From paper flowers to beautiful bouquets! Celebrate springtime by going to your local market or flower shop and selecting flowers for an Easter bouquet. But here's the twist – let little ones choose the flowers! (Within reason, of course.) You can then teach kids how to keep them fresh in a vase or you can stay on the creative path and make a DIY wreath. 
Pin the Tail on the... Bunny!
Rainy Easter? Not a problem! There are plenty of indoor activities that are sure to make kids smile – such as Pin the Tail on the Bunny! You can either draw your own bunny and cut out little tails or get a kit. Then hang up the poster, put a blindfold on each participant and encourage them to place their tail in the right spot!
Musical Hops
For more indoor fun, we suggest the classic game of musical chairs – and, as always – with an Easter twist. Set up the chairs, play music, but instead of walking or dancing around the chairs, you can ask
kiddos
to transform into Easter bunnies and hop, hop, hop until the music stops!
Sharing Basket
Giving is great, no matter the occasion! You can put together little baskets with kids and give them out to your neighbors, for example. Not only will it double as a fun and creative activity (especially if
you're
including some crafty surprises!), but it can teach children about sharing and kindness.
Little ones are curious by nature, and a great way to cultivate that curiosity is gardening! Not only will it encourage children to...