While some families prefer to spend spring break in the comfort of their homes, others are planning to pack their bags and head off
on an adventure together! Not all destinations are a 5-minute car ride away, however, which is why we are here to lend a helping hand to the families who will be spending some time in the car with
kiddos
this season.
Here are
5 easily-portable toys
that are sure to beat boredom on the road:
With this drawing board, children can make sketch after sketch, all on one surface. The magic is in the markers – they're filled with water! This means drawings disappear after some time, leaving space for a new mini masterpiece. And if kids don't want to draw, they can also play classic games such as tic-tac-toe or practice their writing skills on-the-go.
1 double-sided drawing board

 

4 water markers 

 

Side handles 

 
Turn the car into a pretend construction site with mini trucks! This colorful set comes with 3 classic toy vehicles: a dump truck, a cement mixer, and a crane truck. But that's not all – each one also includes a removable driver! This playset is especially great if you're on the road with a couple o' siblings or pals. Sharing is caring, after all!
3 mini construction trucks

 

3 removable drivers

 

Movable parts

 
Traveling with a tiny tot? We've got two small 'n' portable musical instruments that are sure to make them smile. Inspired by our fan favorites – the
Woofer
and the
Meowsic
– these little versions feature baby-friendly designs, chunky buttons, colorful lights, and sounds that are easy on grown-up ears. Are you more 'woof' or 'meow'?
Dog guitar and cat piano

 

Tiny hands-friendly features

 

Lights, music and sounds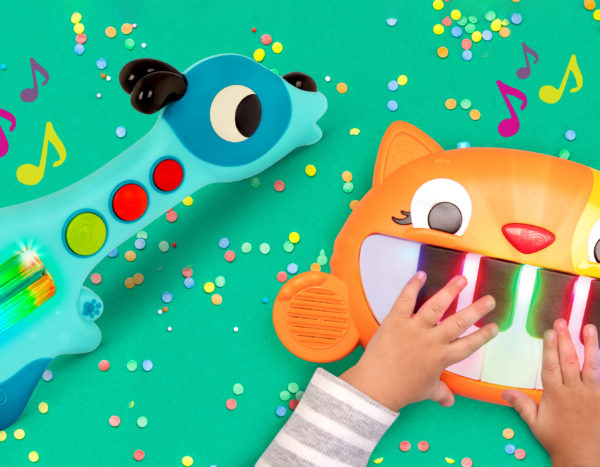 Combine musical fun with learning by playing memory games! This educational toy features 4 different games for children to play on the road (you can participate too!). And if you happen to drive during the darker time of day, this toy lights up and makes sounds – which is sure to keep your kiddo giggling (and you, alert)!
4 fun games

 

4 animal buttons

 

Lights and sounds

 
Keep the educational fun going with a friendly turtle that comes with 10 numbered pegs! This colorful toy is small and can easily be taken on-the-go to practice counting on the road. Explore colors, count to ten, or let children play with the pegs as they please. The best part? All of the pegs easily fit right inside the turtle! (Yay for mess-free travel!)
1 turtle with storage space

 

10 numbered pegs

 

Lights and sounds

 
Pack these colorful, educational, and interactive toys with you as you prep for spring break and you won't hear anyone say "I'm bored!"
Wintertime comes with a ton of fun outdoor activities, but we can't deny that staying in and enjoying the comfort of home is a big part...