Ever wondered about how a toy is made? Where does the inspiration come from? Or what exactly happens behind the scenes before a toy lands in your little one's hands? 
We've got answers that are sure to satisfy your curiosity. 
Discover more about the magical world of toy design with the guidance of our very own B. toys designer, Julie Gambino. She's been part of the B. team from the very start and gave us a first-hand look at the journey of a toy. 
First things first, what exactly does a toy designer do?
JG: A toy designer does so many things, and we look for inspiration in so many places! First things first, always remember your inner child. A lot of our B. toys designs or inspirations come from nostalgia, because we enjoy changing up classic ways to play. 
We often start by sketching up our quirky ideas, even if they don't make any technical sense at first. We then present and discuss our concepts with various teams (we always like to get different opinions from people!). And finally, we work with an incredible team of engineers to make our toy dreams come true! We're lucky to get a feel of how the toy is made from point A – which is just a little idea in your head – to point Z, when you see it on the shelf at a store. 
What is a typical day-in-the-life of a B. team toy designer?
JG: Sometimes, we start the day with a creative challenge – an art-ercise! It usually has nothing to do with toy design, but it's an activity that gets your brain working in a different way. For example, the B. team members had to find objects in their homes and create rainbows out of them – and everyone's rainbow turned out different! Another example would be to draw a portrait of yourself without lifting your pencil, or quickly sketch your 5 favorite things. It can be anything to spark creativity! 
Another fun part of the day is opening boxes that come in and assessing toy samples. And if we're designing musical toys that require songs or sounds, a part of our day can also be recording music or voice-overs in a studio. 
Once our samples are ready, we then get to bring everything to our in-house photo studio for colorful photoshoots. What's great about that is that we get to see the kids playing with our toys. Seeing children smile, play, and interact with our toys is incredibly valuable as a designer.
Finally, the last step is working with our amazing graphic designers to make sure that our packages look beautiful. Then it's out of our hands and into the world they go!  
Where does the B. team draw inspiration from?
JG:We're inspired by color a lot of the time. I think color is really important for B. toys and especially important in a kid's life. I'm also inspired by music, textures, and thrift shops. I love finding vintage toys and seeing how they were made in the 70s. Sometimes I'll even buy something old and dusty, bring it into the office, and ask the team, "How can we change this up a little bit?"
Together with that, I additionally feel inspired whenever I walk into a playroom. Seeing the blueprint of a play space helps me find clues about how kids interact with their favorite objects. But truly, inspiration can come from anywhere! I might see someone's nail polish color one day and think to myself, "That's a really cool color! We should add this to our palette!" 
What are the steps you take when designing a new toy?
JG: Ahhh yes, the fun part!
The first step is about having a concept in mind and finding ways to get it on paper. I will grab my notebook, sharpen my colored pencils, and start sketching out ideas in the form of irregular shapes. In the next steps, I will slowly start to transform the abstract ideas into something more detailed, with clearer ideas about the overall shape and functions of the toy. Then I'll share my sketches with the B. team, and we will sit together to brainstorm until we have a close-to-final toy idea. 
The next part is building a prototype version of the toy to get an idea of its size. I like to look through my recycling bin and find pieces that can help me create it, so I'll grab my scissors and glue and go into arts-and-crafts mode.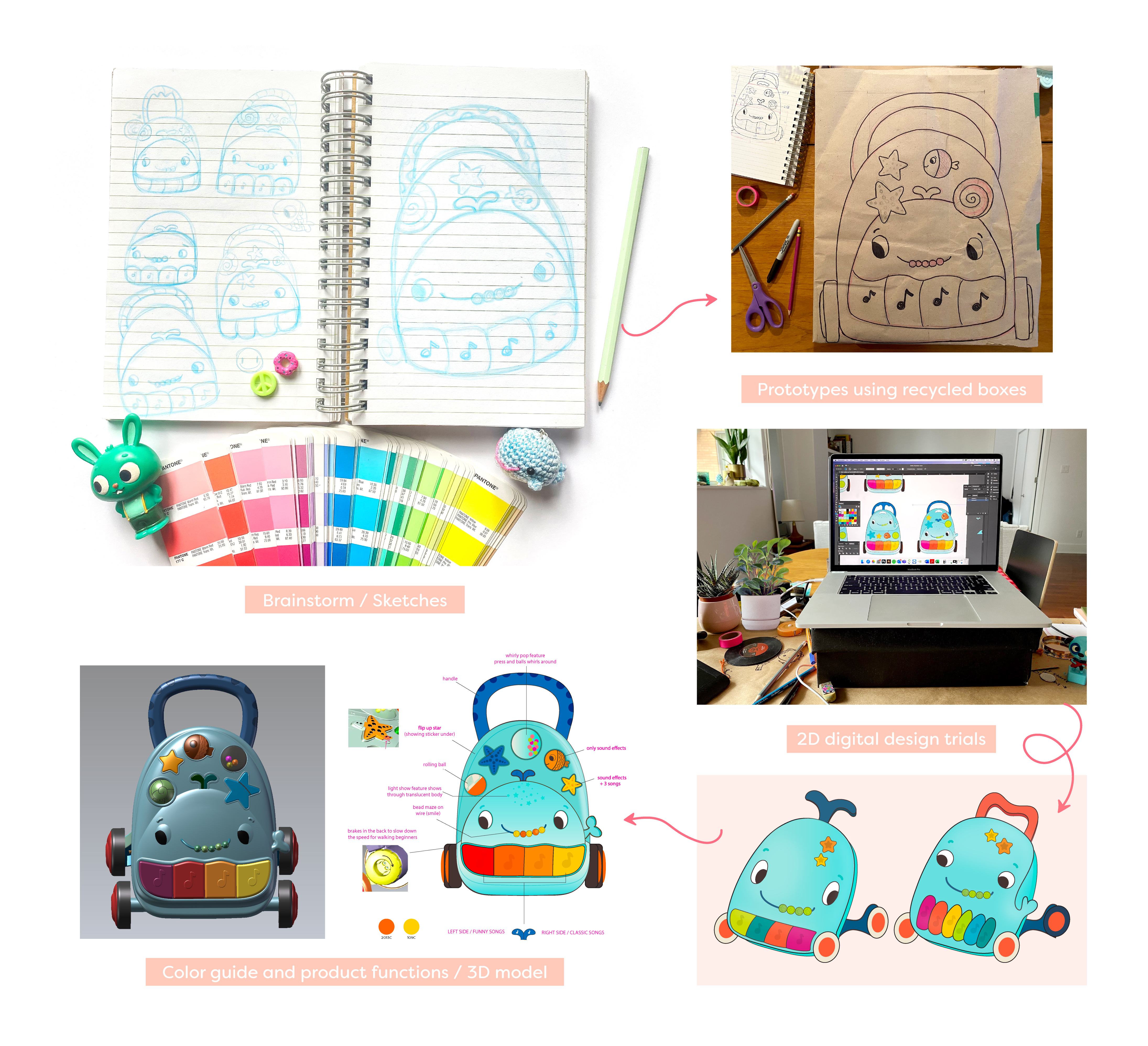 Once the basic structure is resolved, we will re-create the design in 2D. This is where we input all of our technical dimensions into a software to generate a flat design and send it to our engineers. They will analyze it and then send that to a 3D modeler, who will create a 3-dimensional rendition of the design. With that file, we can look at it from every facet!    
After a few tweaks, the modeler sends the file to a 3D printer. That's another great part of the process, because it's the first time you can actually hold it in your hands! What comes next are test shots and photo samples, which then go on the packaging – AKA the final step. 
What is the best part about toy design, in your opinion?
JG: Creative thinking and brainstorming with other team members. I really enjoy that part because I love sharing and collaborating – it makes a little idea grow into something more polished and complete.
Seeing a 3D-printed model for the first time is also very exciting, because what started as something abstract in your mind has been transformed into a real, tangible object. So being able to hold that model in my hands is an unbelievable part of the process! (Not to mention, walking past a window display, seeing the toy inside the store, and thinking "I made this!" It's an incredible feeling.)
But ultimately, the best part about toy design is knowing that children around the world are enjoying our toys, that they're learning through play, and that they're having fun by simply being themselves.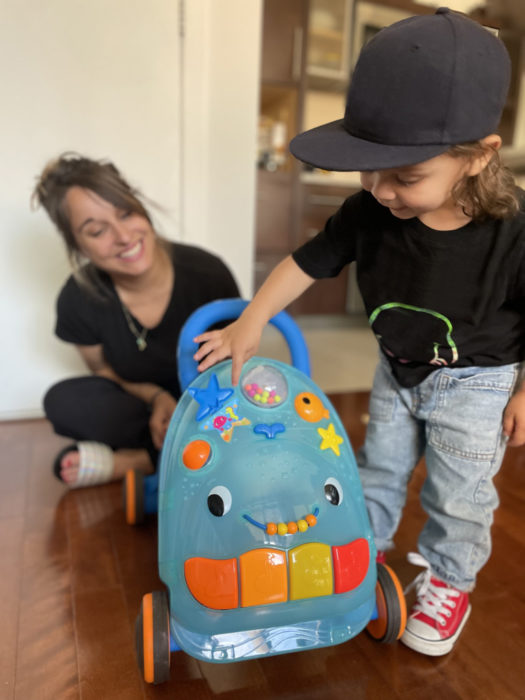 What's the most challenging part about toy design?
JG: The most challenging part in terms of development is having a ton of ideas and wanting to apply all of them to a single toy. In fact, simplifying something is very challenging! You might have endless ideas, but you need to simplify the design in order to get the point across clearly and not have too many functions. 
Also, tech comes with many pros, but I still think it's important for kids to maintain a connection to their toys and always remember the joy a physical toy can bring. We at B. want kids to hold their toys, press real buttons, or cuddle up with their favorite plush buddy! 
What are the B. team's favorite toys?
JG: Our favorite toys change every now and then! Right now, we're loving these four: the B. toys Mini Chef Kitchenette, the B. play Ice Cream Shoppe, the B. spaces Table & Chair Set, and the B. toys Pop-Up Buddies.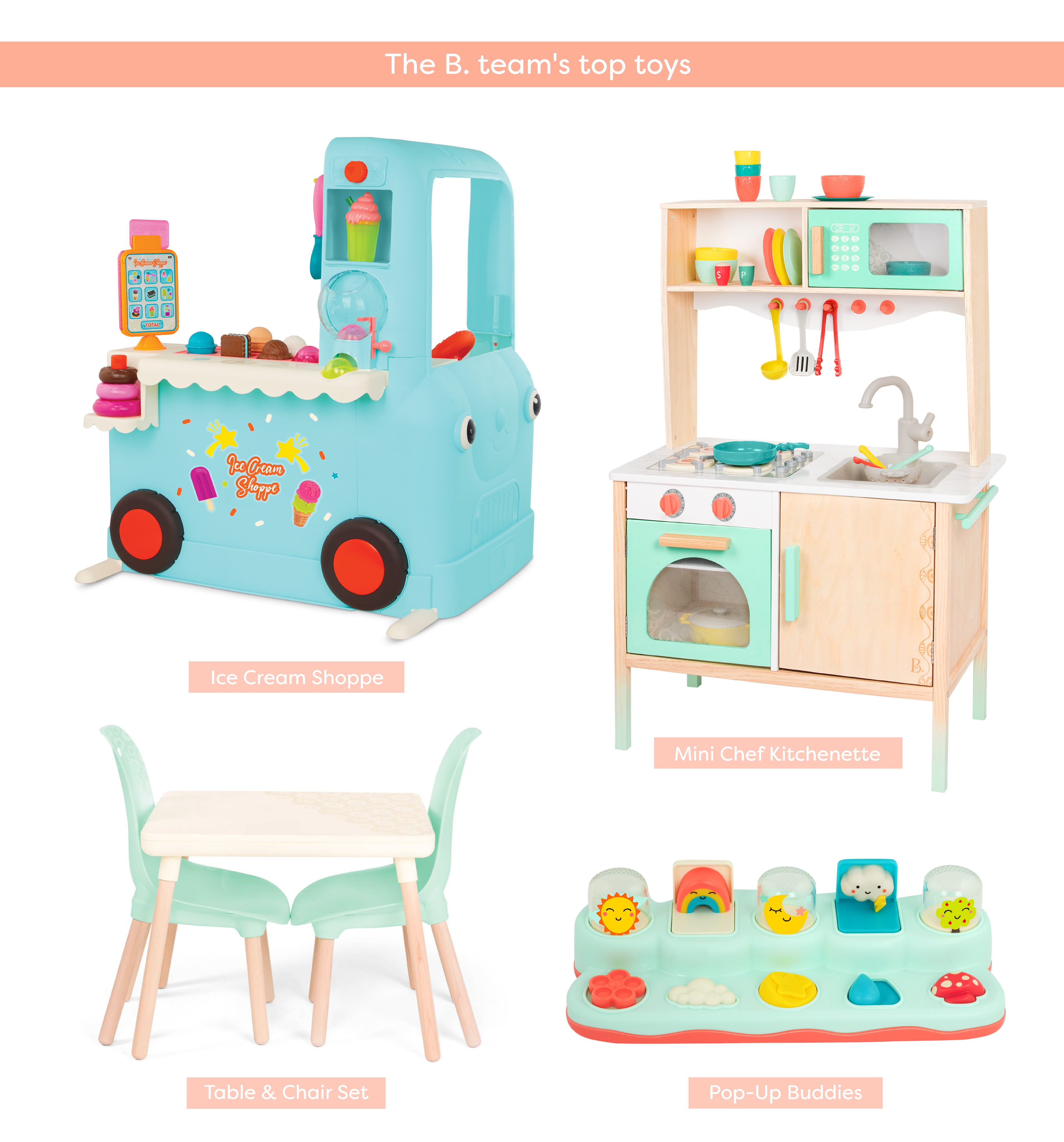 What are the top 3 skills you need to be a toy designer?
JG: Simply put: be a dreamer, be curious, and most importantly, be yourself. If you have the will, you can do anything! 
What advice would you give someone who's interested in pursuing toy design?
JG: Motivation and creativity can get you very far. I still love working on B. toys, even after a decade. I constantly feel like I'm creating something new and it always gives me something exciting to learn about.  
Having an open mind and paying attention to detail are also key. For example, I try to add a memorable touch to every toy, be it purple spots on a cow or a slightly crooked tail on a toy puppy. I don't necessarily want to say "color outside the lines," but we don't have to make everything a perfect circle. Design is so flexible – you have the freedom to create a toy however you wish! 
Whether you're looking to pursue toy design or you were simply curious about the wondrous world of toy making, we hope this Q&A provided some insights and sprinkled a bit of magic into your day! 
When it comes to the world of parenting, storytelling has been around for quite a while – and there's good reason for that. Telling...