July 4
th
festivities are usually filled with family fun, celebratory games, dazzling fireworks, and… delicious snacks, of course! And to make this year's holiday that much more special, we have a few suggestions up our sleeves that'll give your celebrations a sweet touch. 
Adding the red, white, and blue to a classic barbecue may B. tricky, but this July 4
th
, you can easily make these colorful and playful desserts that kids are sure to love:
Patriotic Popsicles
What you'll need:  
Chopped raspberries

 

Chopped blackberries

 

Maple syrup or honey

 

Yogurt

 

Popsicle molds and sticks
Instructions: 
Puree the raspberries and blackberries separately (add maple syrup or honey for extra sweetness!).

 

Add a layer of blackberry puree into the molds, place popsicle sticks inside, and freeze.

 

Once the first layer is frozen, take out the molds and add in a layer of yogurt. Freeze again!

 

Once both layers are frozen, take the molds out one more time and add a layer of raspberry puree. Freeze one last time!

 

Eat these tri-colored popsicles on this festive day!

 
Flag Cookies
What you'll need: 
Flat sugar cookies

 

Red and blue food coloring

 

Confectioner's sugar

 

Meringue powder

 

3 piping bags
Instructions: 
Combine sugar and meringue powder in a mixer.

 

Add water to get the desired consistency (not too runny!).

 

Separate the royal icing into 3 parts.

 

Add blue food coloring to one part, red coloring to the other, and leave the last one white.

 

Place the icing into 3 piping bags and decorate the cookies to resemble the American flag!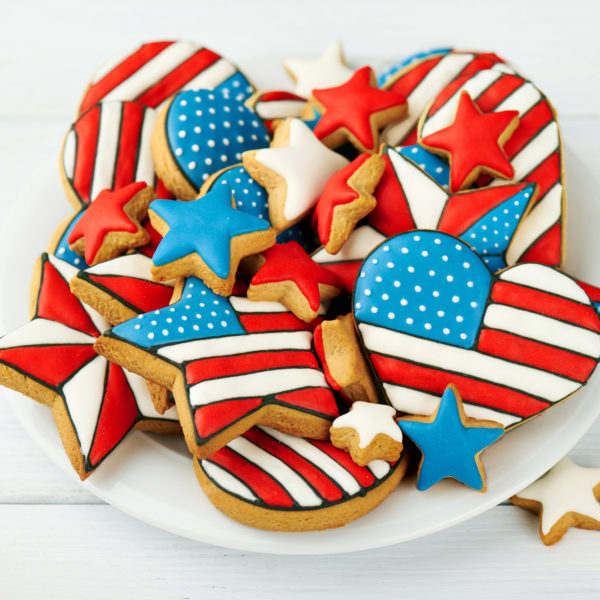 Dessert Pizza
What you'll need: 
Cookie dough

 

Cream cheese

 

Confectioner's sugar

 

Strawberries

 

Blueberries
Instructions: 
Shape the cookie dough into a circle and bake it in the oven.

 

While it bakes, combine the cream cheese and sugar in a mixer.

 

Once the cookie has cooled, spread the cream cheese mixture on top.

 

Decorate with strawberries and blueberries to make your dessert pizza come to life!
Fruit Sparklers
What you'll need: 
Watermelon

 

Blueberries

 

Star-shaped cookie cutter

 

Skewers
Instructions: 
Slice the watermelon, then cut smaller pieces using the cookie cutter.

 

Thread a few berries on each skewer.

 

Add a watermelon star at the top of each skewer and ta-da!

 
Cherry Lemonade
What you'll need: 
Frozen cherries

 

Lemon juice

 

Sugar

 

Sparkling water
Instructions: 
Mix the frozen cherries, lemon juice, and sugar in a blender.

 

Pour the mixture into a glass pitcher, add sparkling water, and mix!

 

You can even do a treat combo by pouring the lemonade into a glass and decorating the drink with a July 4

th

fruit sparkler!

 
What are your kiddo's favorite festive snacks? Share your top July 4
th
foods by tagging us
@mybtoys
!
Wintertime comes with a ton of fun outdoor activities, but we can't deny that staying in and enjoying the comfort of home is a big part...