The summer sun is still shining bright, but that doesn't stop us from thinking about the upcoming school season! 
As you're enjoying time with family, fun with friends, or the great outdoors, we're more than happy to do the legwork for you. 
W
hen th
at 
classroom bell rings, 
we want to B. sure you're
 ready to roll right into learning!
Whether you're sending little ones off to preschool for the first time or you're familiar with the process, we've prepared a jam-packed checklist that is sure to make the back-to-school experience smooth and simple.
Here are our top 20 things to check off your back-to-school list:
1. Backpack
A toddler-friendly backpack that holds all sorts of fun and useful treasures is simply a must-have when it comes to 
class time
.
2. Snacks
Who wouldn't want to bring some snacks along
 for the educational ride
? 
Fill your kiddo's 
colorful
 lunchbox with 
(nut-free!) snacks and add in a freezer pack to make sure some foods stay cool.
3. Water Bottle
Hydration is key – and a s
pill-proof 
water bottle 
that's 
easy to open
can go a long way for little ones.
4. Extra Set of Clothes
A back-up plan for back-
to-
school! 
It n
ever hurts to be extra prepared clothing-wise – life can 
B. 
unpredictable at times.
5. Diapers
If y
our little one
 needs a 
lil
' support in the potty department
, packing a few diapers is the way to go.
6. Seasonal Clothing
The back-to-school season is different depending on where you live! If some layers are needed, make sure to throw in a jacket into the mix 
s
o 
that 
your child stays warm
 during outdoor activities
.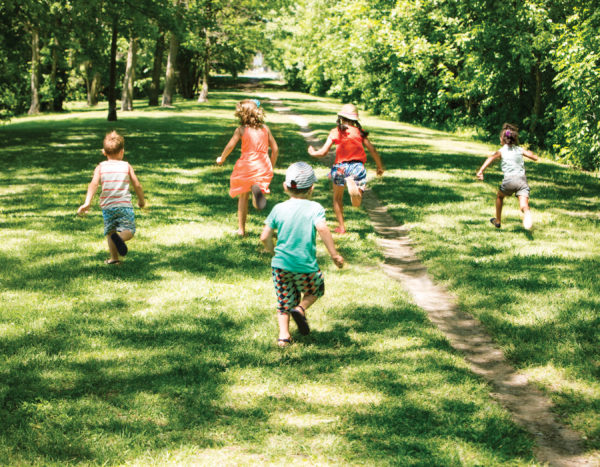 7. Sunscreen
Speaking of outdoor fun, we also recommend enjoying the sun with s
unscreen in hand and safety in mind!
8. Clothes for Creativity
If you know that 
artistic activities will take place
, 
br
ing along an item of clothing that you don't mind turning into a messy masterpiece.
9. Shoes
W
e 
suggest 
wearing c
losed
toe shoes without laces
, making them safe and easy for kiddos to put on or take off.
10. Indoor Shoes
Some schools require an additional pair of indoor shoes – make sure to check in with t
he administration 
before the first day!
11. Comforting Toy
12. Family Photo
On top of a toy, 
having 
a family photo 
can also help kiddos feel more "at home." Not to mention, it can 
lend a helping hand to the teacher who's getting to know all of her little student's families!
13. Important Documents
Another great aid for a teacher – even a necessary one – would be a document that lists any kind of allergy, medical condition, 
or 
private information
 related to your child
.
14. Medication
If the little one in your family 
has a 
condition that requires them to take medication, packing those and letting the teacher know about when 
your kiddo has to 
take '
em
 is key!
15. Naptime Essentials
Bring what kids need to snooze smoothly – a pillow, blanket, 
and something soft to snuggle with! The cozier, the better.
16. Cleaning Items
Things can get a 
lil
' messy from time to time, so we suggest packing some wipes and hand sanitizer 
for
 easy clean-ups.
17. Art Supplies
Some schools offer art supplies, but others might not! Check in with your child's teacher and pack 
colored pencil
s
, paint, brushes, colorful construction paper, and more if need-be.
18. Folder
To keep mini masterpieces in place, we suggest equipping k
ids 
with folders that they can use to store their art projects.
19. Pencil Case
On that tidy note, we also recommend getting a 
f
un pencil case for all of the itty-bitty supplies.
20. Requested Items
Before the first day, contact the school or your child's teacher to double-check 
that you have everything needed
. There might be specific items on their list 
that you haven't thought of!
In addition to checking 
things 
off of your back-to-school list, we also wanted to share some tips when it comes to preparing for that first day:
If you have the opportunity, tour the school beforehand. This is especially useful if your little one is going there for the very first time! Knowing what's ahead can make them feel more comfortable.

 

For story time, choose books about school and read them to kids before they enter a classroom. Knowing more about the process can put their minds at ease if they're feeling a bit nervous.

 

Label everything! This will help you avoid trips to the lost-and-found and will help kids identify what's theirs. (Extra tip: use waterproof labels.)

 

Prep lunches ahead of time to make mornings run smoothly and to have room for unforeseen situations.

 

Stay positive! This is a milestone for families and children alike – and it's definitely something to celebrate.

 
Keep an eye out for our Ultimate Preschool Checklist – Part II, where we'll share our tips and tricks 
in relation
 to preschool readiness!
We've been busy bees behind the scenes, preparing something special for you all – and we're now ready to draw the curtains.  We at B...